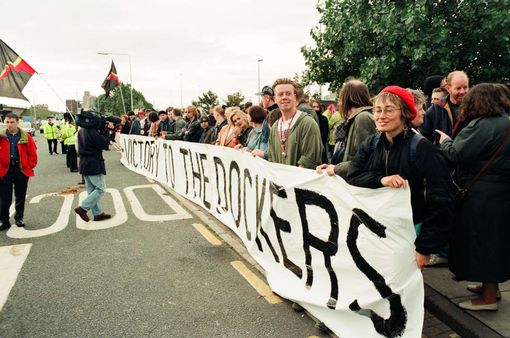 Would you be willing to stand up in solidarity with your fellow workers, even if it cost you your job?
On this day in Labor History the workers at Mersey Docks and Harbor Company in Liverpool, England answered that question. 
The year was 1995. 
329 Mersey Dock workers refused to cross a picket line that was being walked against another company on the docks. 
The workers at Torside had been fired for protesting against erosions in job security and increasingly unpredictable scheduling. 
They were speaking out against the casualization of their labor. 
When the Mersey Dock workers would not cross the Torside picket line, they too were fired. 
Dock workers across the world stood up in solidarity with the Mersey workers against this unjust treatment. 
They knew if it could happen in Liverpool, it might happen anywhere. 
Pickets sprung up from Norway to Japan, from Australia to Italy and into the United States. 
It was a global outpouring of solidarity. 
The strike wore on for 850 days. 
One year in to the strike, dockworkers held an international day of action in support of the Liverpool workers. 
Finally, two-and-a-half years after they were fired, the dockworkers agreed to a settlement. 
They did not get back their jobs. 
But they did get severance pay. 
A film was made about the struggle. 
The proceeds were used to purchase a bar in Liverpool. 
It is known as the Dockers Pub, and has become a space for working class organizing. 
The International Dockworkers Council was also born from this strike. 
Today the council has 90,000 members—a lasting movement of solidarity. 
Twenty years after the strike, dockworkers from across the world gathered in Liverpool to remember the struggle.