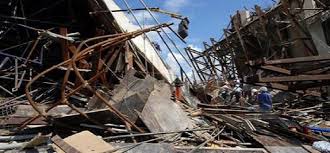 On this day in Labor History the year was 2007. 
It was that morning that a bridge under construction in Vietnam collapsed.
The disaster happened in Can Tho, about 100 miles south of Ho Chi Minh City.
It was a suspension bridge project to cross the Hau River.
The project was run by Japanese firms working with the Vietnamese government.
250 workers were on site at the project when the disaster happened.  
55 people were killed and another one hundred were injured due to the collapse. 
One reason cited for the collapse was that torrential downpours had caused the support structure for the bridge to sink. 
Another possible reason was that the scaffolding on the construction project was too weak to hold the weight.
When it failed, it took down a section of the four-lane concrete deck approach ramp with it. 
The fallen section weighed between 1,500 and 2,000 tons.  
The collapse was considered the worst disaster in the history of the Vietnam construction industry. 
Manh Hung, leader of one of the construction teams described what occurred. 
"We suddenly heard a great explosion at a bridge head.  Dust covered a great air space while workers screamed out.  The scene was so terrible.  The whole great block fell on people below." 
Vietnamese, along with Japanese and Filipino rescue volunteers rushed to attempt to find survivors. 
1,000 local residents gave blood at the hospital for those injured.
The rescue efforts were hampered by the danger of a further collapse.
They had to use a crane to clear the rubble.
Finally, after four days, the rescue efforts were called off. 
The bridge project was completed in 2010.  
The names of the fallen workers are inscribed on a memorial.