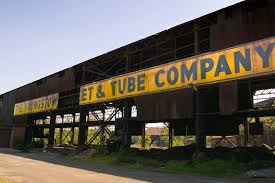 On this day in Labor History the year was 1977. 
That was the day that is remembered in Youngstown, Ohio as "Black Monday." 
The Youngstown Sheet & Tube Company announced plans to close its doors laying off more than 4,000 workers. 
Youngstown was a steel town. 
During the first half of the twentieth century, plants were booming.
Youngstown was a union town, a stronghold for the United Steelworkers by the 1940s.
But by the 1970s the once booming steel industry was going bust in Youngstown. 
More and more jobs moved overseas and to states with less union protections. 
Black Monday began a devastating series of plant closings. 
Two years later Brier Hill Mill closed, followed in 1980 by US Steel.
In 1985 it was Republic Steels' turn. 
By the early 1990s, the steel industry, which had once employed 40,000 people only had 1,000 workers left in Youngstown.  
William Lawson, the Executive Director of the Mahoning Valley Historical Society, recalled the impact of the closings. 
"Over the course of my high school career, many boys and girls I had known in grade school left—some in the middle of school years, most during the summers—as their parents accepted transfers…to work in other plants around the country, or lost their jobs and went out in search of employment elsewhere." 
In 1997, the Jeanette Furnace at the shuttered Briar Hill plant was dynamited, despite preservationists' efforts to save it. 
Bringing down the "Sweet Jennie" furnace became symbol of Youngstown's economic ruin, memorialized in Bruce Springtseen's song Youngstown.