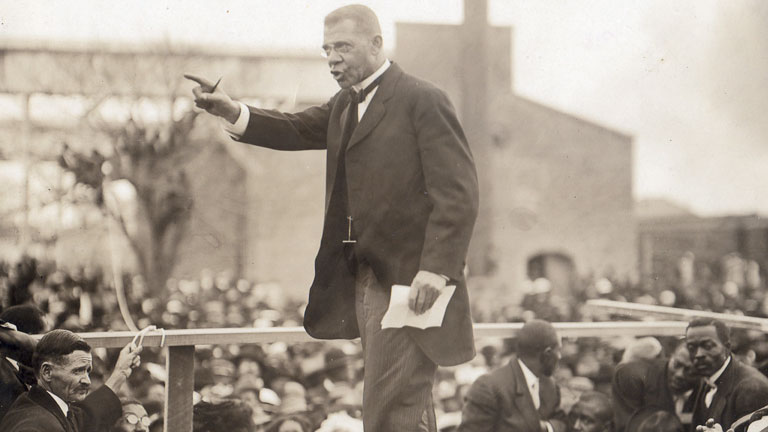 On this day in Labor History the year was 1895. 
That was the day that Booker T. Washington delivered what came to be known as the "Atlanta Compromise Speech," which outlined his vision for race relations and black labor in the South. 
Washington was the founder of the Tuskegee Normal and Industrial Institute, a college to train black students for careers in teaching, farming and other trades. 
Washington was invited to give an address to the Cotton States and International Exposition in Atlanta. 
It was the first time that a black man was asked to speak before a black and white Southern audience. 
In his speech he urged Southern land owners and business leaders to employ black labor over European immigrants. 
He said, "To those of the white race who look to the incoming of those of foreign birth and strange tongue and habits for the prosperity of the South, were I permitted, I would repeat what I say to my own race, "Cast down your bucket where you are." 
He continued, "Cast it down among those people who have, without strikes and labor wars, tilled your fields, cleared your forests, built your railroads and cities, and brought forth treasures from the bowels of the earth and helped make possible this magnificent representation of the progress of the South." 
His speech outlined a plan for gradual black economic advancement. 
He declared, "agitation of questions of social equality is the extremist folly."
Other black leaders, most notably W. E. B. Du Bois rejected Booker T. Washington's ideas of gradual advancement.
Instead DuBois fought racial discrimination through the legal system and helped to found the National Association for the Advancement of Colored People, the NAACP.