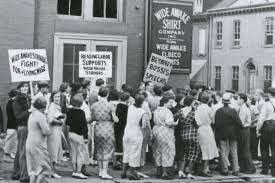 On this day in Labor History the year was 1934. 
That was the day that leading Southern textile employers met together in Greenville, North Carolina. 
They met to plan a coordinated response to the national textile strike. 
The Great Depression had ravaged the textile industry. 
Workers were subjected to the "stretch out." 
Fewer workers were expected to work at a faster pace and produce the same amounts of products. 
Work in textile mills was already grueling. 
The stretch out made conditions even more unbearable. 
Fed up, 20,000 southern workers walked off the job in July.   
From there the numbers grew. 
On Labor Day, 65,000 workers in North Carolina joined the strike. 
Strikers confronted scabs and moved to close down mills not participating in the strike. 
They also disrupted railroad traffic. 
In response, the National Guard was called out against the strikers. 
Violence erupted between the strikers and armed police and strikebreakers throughout the South and New England. 
The Southern owners decided it was time to marshal their own response to the strike. 
According to historian Jeremy Brecher, "An army of 10,000 National Guardsmen was mobilized in Georgia, South Carolina, North Carolina, Alabama and Mississippi, supplemented by 15,000 armed deputies." 
But despite this show of force the strike grew.
More than 400,000 textile workers had walked off the job. 
In response, President Franklin Roosevelt's' administration declared that the working conditions and wages in the industry should be studied. 
Although there were no guarantees for improvement, union leaders called off the strike. 
Much to the anger of many rank-and-file union members, one of the largest worker actions in U.S. history, and one of the most important uprisings of Southern labor, was ended.