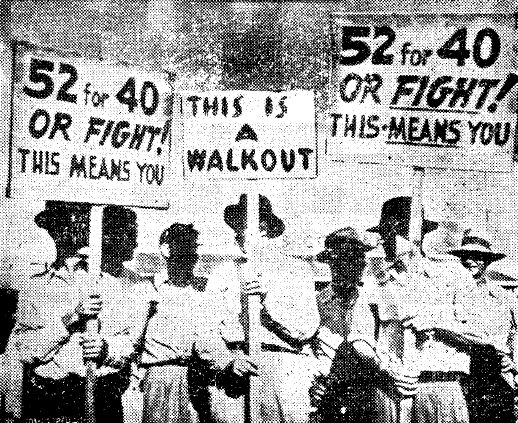 On this day in labor history, the year was 1945. 
That was the day oil workers walked off the job. 
The strike soon spread to 20 states and involved more than 43,000 workers at 22 oil companies. 
After years of wartime wage freezes, the union's demand was 52 for 40—fifty-two hours pay for 40 hours work. 
Workers demanded a 30% pay increase, shift differentials and an eventual return to the 36-hour workweek. 
The strike began in Michigan at the Socony-Vacuum refinery in Trenton. 
From there it spread to Gulf, Sinclair and Shell. 
By October 4, President Truman signed executive order 9639, allowing the Secretary of the Navy to seize petroleum operations.  
The Oil Workers International Union/CIO immediately called off the strike and ordered its members back to work.
A month later, the Navy had still not relinquished control of operations. 
The union considered Truman's seizure a betrayal. 
There was no mechanism put in place to settle the dispute or consider workers demands. 
By January 1946, the Oil Panel, created by the Secretary of Labor, finally awarded oil workers an 18% wage increase.   
Though disappointed, the union considered it a victory.
They asserted the strike action was significant on a number of levels. 
The first nationwide industry strike had just forced the oil companies to meet with the union for the first time. 
The OWI believed the groundwork for industry-wide bargaining had finally been established.
It had been the first post-war strike and had forced the government to begin moving away from wartime wage controls. 
Of the post-war strikes, it won the largest pay increase. 
And importantly, it broke the power of Standard Oil to dictate wages to the industry through its dealings with its "independent union."