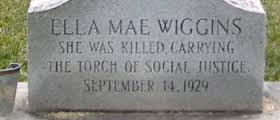 On this day in Labor History the year was 1929. 
That was the day that Ella Mae Wiggins was gunned down on her way to a rally of striking textile workers in North Carolina. 
Ella Mae was born in the mountains of Tennessee. 
Her father was a lumber jack who was killed on the job. 
She and her brother then entered the textile mills to help support their family. 
She married another mill employee and they had seven children. 
When her husband left her, Ella Mae struggled to keep her family afloat. 
When the Great Depression came textile mill workers were subjected to the "stretch out." 
Owners demanded that fewer workers quicken their pace to produce the same results. 
In response textile workers began to organize and strike in Gaston County, the heart of the Southern textile industry.
Ella Mae became a local leader of the National Textile Workers' Union.  
She advocated organizing both white and black workers.
She became known for leading the other workers in song. 
One of her most poignant songs was The Mill Mothers Lament. 
The lyrics told her personal struggle of a mother trying to support her children.
On the day she was killed, Ella Mae was in a truck heading to a workers rally. 
They were met by an armed mob, deployed by the mill owners. 
The unarmed workers turned their truck around, but the mob chased them and gunned down Ella Mae. 
Five people were charged but they were acquitted of her murder.