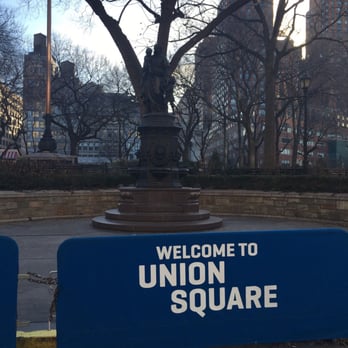 On this day in Labor History the year was 1997. 
That was the day that Union Square in New York City was named a National Historic Landmark. 
Republican Governor George Pataki explained the importance of the park in a press release. 
"It is only fitting that the National Parks Service should recognize Union Square Park's long history as a focal point for political expression.  New York is proud that the first Labor Day Parade took place here in Union Square Park more than a hundred years ago, establishing a tradition that spread across the nation." 
Although the park was very important to the labor movement—that is not why it is known as "Union Square." 
The park got its name because it was the place of intersection, or union, of two busy New York roads—what are today Broadway and Fourth Avenue. 
In 1831 the open space at the intersection was declared a public space.  
The space became an important location for labor rallies and political demonstrations.
In 1882, the first Labor Day parade in U.S. history marched through the square. 
10,000 workers waiving their banners high.  In 1911, Union workers again gathered in Union Square to protest after the Triangle Shirtwaist Factory Fire killed 146 mostly young women and girls, some garment worker as young as 11 and 14 years old. 
In the later 1920s the park was demolished for the construction of the New York Subway. 
But the space continued be important to the city's union movement. 
In 2002, a series of twenty-two bronze plaques were dedicated at the park to tell the history of Union Square. 
One of those plaques tells of the first Labor Day parade. 
Another is a collage of images of labor demonstrations and sheet music of labor songs.