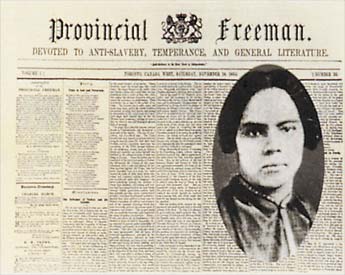 On this day in labor history, the year was 1823.
That was the day abolitionist and women's suffragist, Mary Ann Shadd Cary was born. 
Her parents were free blacks of color in the slave state of Delaware.
They were involved with many prominent abolitionists and active in the Underground Railroad.
The family moved to Pennsylvania, where Mary and her siblings were educated in Quaker schools.
As a young woman, Mary became a teacher and returned to Wilmington, Delaware where she opened a school for black children. 
Once the Fugitive Slave Law was passed in 1850, Mary and many other free blacks fled to Canada to safely continue their abolitionist work.
She opened a school for fugitive slaves in Windsor, Ontario just across the river from Detroit. 
Mary soon came under fire in the local press for insisting the school be racially integrated. 
She responded by starting her own newspaper, The Provincial Freeman.  
She and her husband, Thomas often traveled to the United States to continue their anti-slavery work. 
They were present at John Brown's 1858 Constitutional Convention.
Mary worked with Osborne Perry Anderson to publish his 1861 memoir, A Voice from Harper's Ferry.
Anderson had participated in Brown's raid and was the lone African-American survivor. 
After her husband's death, Mary returned to the United States with her children to help recruit black soldiers to the Union Army.
Once the Civil War was over, Mary moved to Washington D.C to teach.
She enrolled in Howard University where she earned a law degree.
There she joined the National Woman Suffrage Association and worked with Elizabeth Cady Stanton and Susan B. Anthony.
She continued to advocate for civil rights and women's equality until her death in 1893.