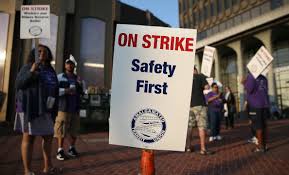 On this day in Labor History the year was 2013. 
That was the day that two workers on California's Bay Area Rapid Transit, or BART as it is more commonly called, were struck and killed by a train. 
Christopher Sheppard was a BART track engineer.
Laurence Daniels was a contract employee.
Both men had years of experience working on the tracks.   
They were inspecting the tracks when they were hit and killed. 
The workers who usually operated the trains were out on strike.
The Amalgamated Transit Union Local 1555 and SEIU Local 1021 had walked off the job the day before. 
The strike disrupted the daily commute of 400,000 Bay Area travelers.
The unions were striking for improved wages and safer working conditions. 
The union wanted bullet proof glass for station agent booths for worker safety. 
They also asked for improved lighting in the tunnels. 
According to an article in Mother Jones, "A BART spokesperson called the safety issues a "smoke screen," arguing that contract negotiations were not the place to raise them." 
In response to the strike, BART was training a replacement worker to run the trains when the tragedy occurred. 
The manager who was supposed to monitoring the unexperienced driver had left the car.  
In addition, the National Transportation Safety Board found that BART had no way for workers on the tracks to communicate with train drivers.
The family of Laurence Daniels sued BART, which settled for $300,000. 
The unions and BART settled the strike two days after the tragic deaths. 
The union won a nearly a 16 percent pay increase the over four of the year contract.
The union also won safety upgrades.
But management won concessions on employee contributions to medical benefits and pensions.