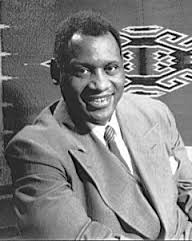 On this day in Labor History the year was 1945. 
That was the day that Paul Robeson received the Spingarn Medal from the NAACP. 
The award was given annually to the African American with the "highest achievement." 
Robeson certainly fit that criteria. 
He was born in Princeton, New Jersey. 
He attended Rutgers University, where he was an athletic standout and valedictorian. 
He earned his law degree from Columbia. 
He was a successful singer, as well as stage and film actor. 
He was an internationally recognized star, with singing engagements all around the world.
Robeson strongly supported labor and working people. 
He was also an outspoken critic of US colonialism. 
His stand for social justice made him a target of Senator Joe McCarthy during hysteria of the Cold War red-scare.
Because of his alleged Communist ties, in 1950 Robeson's passport was revoked. 
It took him eight years to get it reissued. 
During that time, he could not travel abroad to perform. 
The International Union of Mine, Mill and Smelter Workers invited Robeson to sing at their Canadian convention in 1952. 
Since he could not travel, he sang over the telephone. 
The union then organized a concert on the Washington State-Canadian border. 
Standing on a flatbed truck parked on the US side of the border he gave a 45-minute performance to a crowd of 40,000. 
He started the concert by saying, "I stand here today under great stress because I dare, as do you -- all of you, to fight for peace and for a decent life for all men, women and children."