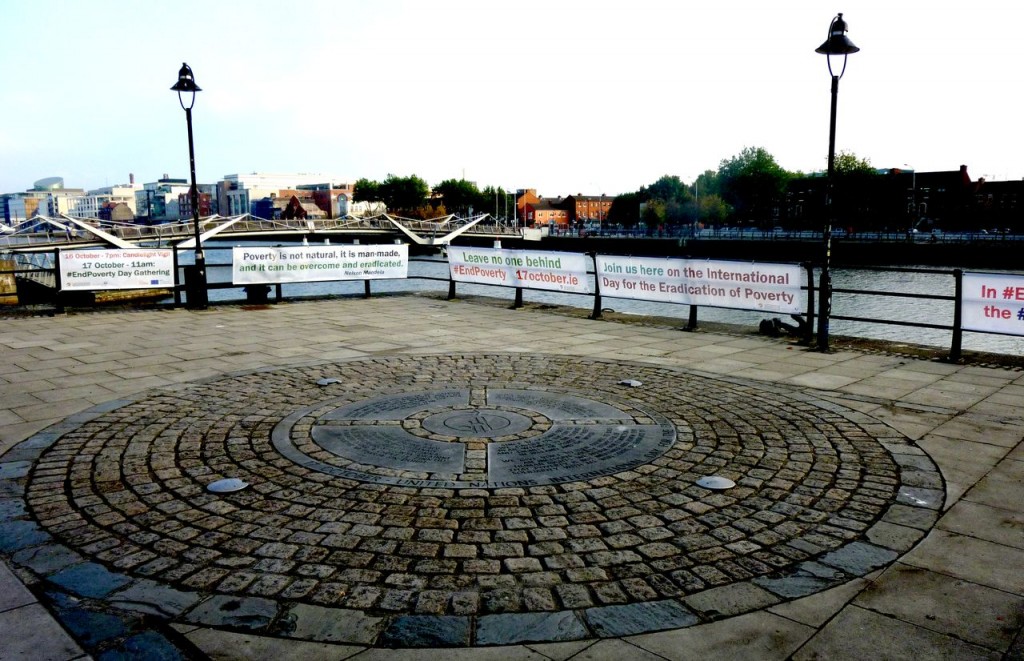 On this day in Labor History the year was 1987. 
That was the day that more than 100,000 people gathered in Paris to stand up against poverty and hunger. 
The gathering was inspired by Father Joseph Wresinski, a French Catholic Priest.
He founded the All Together in Dignity Fourth World Movement, dedicated to addressing poverty. 
That day unveiled a Commemorative Stone to honor the victims of extreme poverty.  
The stone bears an image of two people, arms outstretched releasing a bird to the sky.  
The stones inscription read, "On this day, defenders of human and civil rights from every continent gathered here.  They paid homage to the victims of hunger, ignorance and violence.  They affirmed their conviction that human misery is not inevitable.  They pledged their solidarity with all people who, throughout the world, strive to end extreme poverty."
The site they chose to place the stone was significant. 
The Trocadero Plaza in Paris is where the Universal Declaration of Human Rights was proclaimed by the United Nations in 1948. 
The Universal Declaration of Human Rights affirmed the basic rights of all people, including the right "to form and to join trade unions" and the "right to equal pay for equal work." 
Placing the Commemorative Stone at this important spot was a continuation of this legacy. 
In the years since then, on this very day, other cities around the world have commemorated replicas of the stone. 
Nearly twenty cities in France have dedicated stones. 
Cities in Canada, Mexico, Switzerland, Belgium, Ireland, Scotland, Great Britain, Italy, Poland, Portugal and the Philippines have also placed these tributes. 
In 1992, the United Nations declared October 17, the annual International Day for the Eradication of Poverty.