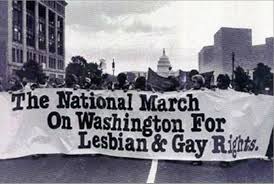 On this day in Labor History the year was 1979. 
That was the day that the National March on Washington for Lesbian and Gay Rights took place in Washington D.C. 
Estimates of marchers ranged from as few 75,000 to as many as 200,000.
The year of the march was significant. 
It marked the ten-year anniversary of the police raid at the Stonewall Inn, a gay bar in New York's Greenwich Village. 
When police raided Stonewall it sparked a series of protests that helped launch the modern LGBT rights movement. 
Ten years later, gay and lesbian Americans still faced significant employment and legal discrimination. 
Many also faced violence.
The published program for the event included a tribute to Harvey Milk, the openly gay Member of the San Francisco Board of Supervisors who had been assassinated a year earlier. 
Lyrics to the song "Harvey Milk's Body" was written for the tune of "John's Brown Body."
The program also included an article urging march participants to lobby Capitol Hill for justice. 
A sample letter to congress was printed as a template. 
It noted that that "Many lesbians and gay men face unjust discrimination in employment," and called for change. 
The march organizers issued five demands. 
The second demand was that President Carter issue an "order banning discrimination based on sexual orientation in the Federal Government, the military and federally-contracted private employment." 
The program included a list of organizations that supported the march. 
Not many labor unions endorsed, with a few notable exceptions such as Actors Equity Association, three AFSCME locals, and one American Federation of Teachers local. 
More demonstrations in Washington D.C. followed. 
A march held in 1993 drew crowds estimated at one million—a powerful gathering for the movement to end LGBT discrimination.