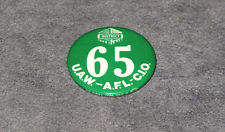 On this day in Labor History the year was 1985.  That was the day that clerical and support staff at Columbia University went out on strike.
More than 1,000 staff members were represented by United Auto Workers District 65.  The workers wanted improvements to benefits and wages. They were also concerned by pay discrimination for women and minorities.  
Two days before the proposed strike was set to begin the workers held a rally.  Trade union leaders spoke out in support of the clerical staff.  Members of the clerical staff union from Yale University also made the trip to support the Columbia workers.  The Yale union had won its first contract just the year before after a ten-week strike.
The Yale delegation changed, "We love you 65, oh yes we do, we whipped the Ivy League and You Can too."  The strike lasted for five days. Some of the students formed "Students for a Fair Contract" and helped pass out leaflets on the picket lines.  The Teamsters refused to cross the picket lines, stopping deliveries to campus. 
According to the Columbia Spectator newspaper, the final contract including significant gains for the members.  They won "a six percent pay increase with retro-activity and additional hikes for minority workers, lower deductibles on medical insurance, and non-discriminatory clause, and new technology language."
The union victory at Columbia was part of a wave of strikes by clerical workers at some of the nation's top schools.  Stanford staff went on strike in 1974 and 1982.  Cornell staff held three strikes during the 1980s. The workers who helped to run these elite, well-funded institutions were standing up for their rights as workers.