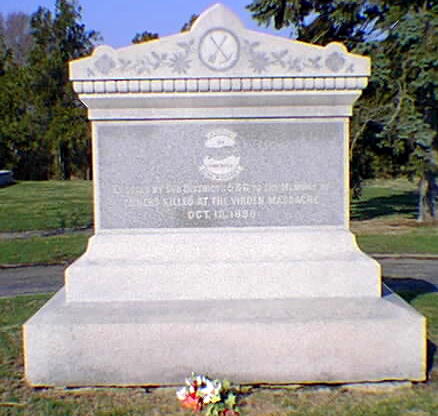 On this day in labor history, the year was 1899.
That was the day union miners in Mt. Olive, Illinois began commemorating Miners Day.
Every year thousands came into town for a parade, music and speeches. 
Mt. Olive was the site of the only union-owned cemetery in the United States, established by UMWA local 728, in the aftermath of the Virden massacre.
A year before to the day, striking miners had been killed in a shoot out with company guards attempting to herd scabs into the mines in Virden, Illinois. 
But, as Mother Jones' biographer, Eliot Gorn notes, the "train never unloaded its cargo and the company was forced to settle."
The union hoped to erect a gravesite monument commemorating those miners who had been killed at Virden.
But they were refused by those who considered the fallen miners to be murderers, not martyrs. 
That's when the UMW established the Union Miners Cemetery. 
On this day, nearly 10,000 turned out for the union's memorial ceremony. 
The UMW unveiled a monument dedicated to fallen Virden miners, E.W. Smith, Joe Gitterle, Ernst Kaemmerer and E.F. Long. 
The day was filled with parades, music, laying of wreaths and speeches. 
Haymarket widow and radical activist, Lucy Parsons was among the speakers.
In his book Death and Dying in the Working Class, Michael Rosenow notes that her presence drew a direct connection between the fallen miners and the Haymarket martyrs, cut down while advancing the cause of labor. 
Thousands traveled to Mt. Olive every year for celebrations, including Eugene Debs, miners' leader John Mitchell and Mother Jones. 
In 1923, Mother Jones asked to be buried with her boys, noting "they are responsible for Illinois being the best organized labor state in America."