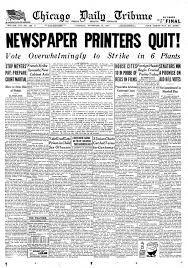 On this day in Labor History the year was 1947. 
That was the day that front page of the Chicago Tribune printed a banner headline "Newspaper Printers Quit!"
1,600 members of the International Typographical Union Local 16 had gone out on strike against six Chicago newspapers. 
The key reason for the strike was wages.
The union also wanted the publishers to agree to only hire union labor.
The walkout was part of a wave of printers' strikes in the United States and Canada. 
In all, union members from 43 newspapers from 27 cities went on strike. 
Most newspapers were able to keep printing during the walkouts.
But many had to reduce the number of editions or make changes in how the paper was produced. 
According to the an article published by the Associated Press, "Some are using a photoengraving process to circumvent their composing rooms while others continue to the use of normal methods." 
The Chicago strike wore on for twenty-two months. 
The strike also became an important labor struggle after the passage of the Taft-Hartley legislation. 
The legislation, approved by Congress earlier that year over President Harry Truman's Veto, restricted the rights of labor unions including outlawing the closed shop. 
Since the typographical unions were some of the oldest trade unions in the country, the strike became an important battleground over how Taft-Hartley would be interpreted. 
The American Newspaper Publishers Association hoped that Taft-Hartley could be a tool in smashing the strike. 
The courts sided with the publishers and demanded the union drop their demand for a closed shop. 
The union did win a ten-dollar raise, a little more than two-thirds the amount they asked for during the strike.