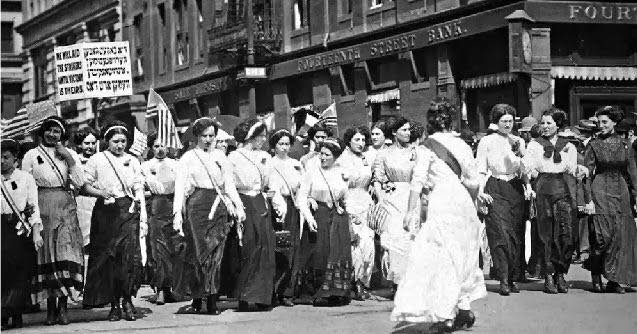 On this day in Labor History the year was 1909. 
That was the evening when a crowd began to gather at the Cooper Union in the heart of New York City's shirtwaist garment making industry. 
A meeting had been called by the International Ladies' Garment Workers' Union Local 25 to discuss whether garment workers should go out in a general strike. 
Working conditions and pay throughout the industry were abysmal.
It was common for worker to toil eleven hours a day, with only a thirty-minute lunch break seven days a week.
But organizing all of these workers was a challenge. 
Many spoke various dialects of Yiddish or Italian, so organizing had to take place in multiple languages.
But slowly the organizing efforts began to build and show results.
Pickets and walk outs were held against some employers. 
The union called a meeting to discuss what to do next. 
They voted to strike after a stirring speech in Yiddish from Clara Lemlich, a founder of ILGWU Local 25.  
The strike came to be known as the Uprising of the 20,000.  
It lasted until February. 
In a settlement more than 300 factories agreed to recognize the union.
The factory workers also won improvements in wages, hours, and conditions.  
A song from the Educational Department of the ILGWU captured the spirit of the strike. 
The lyrics begin, "In the black winter of nineteen nine, when we froze and bled on the picket line, We showed the world that women could fight and we rose and won with women's might."
The song continued, "And we gave new courage to the men Who carried on in nineteen ten and shoulder to shoulder we'll win through, Led by the I.L.G.W.U."