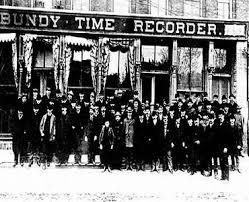 On this day in Labor History the year was 1888. 
That was the day that William Le Grand Bundy is credited with inventing something that has become a daily part of life for millions of workers.
His "Time Recorder" was a time clock that could record when workers arrived and left their jobs each day. 
The clock would record the time on a paper tape when a worker inserted his or her individualized, numbered key.
Bundy was a jeweler and inventor from New York.  
After inventing his time clock, he went into business with his brother Harlow and founded the Bundy Manufacturing Company. 
With the growth of factories, there was more and more demand for time clocks. 
They were considered more exact and efficient than human time keeping.
Keeping track of hours worked and labor costs became an essential part of squeezing every drop of profit out of the industrial workforce. 
The Bundy brothers located their company in the city of Binghamton, in southern New York. 
Business thrived.  
Other inventors put their own twist on the time clock.
At the turn of the twentieth century, the Bundy company merged with several other time-keeping outfits, forming the International Time Recorder Company. 
Workers across the United States, Canada and Europe had their work hours recorded by International Time clocks. 
Later the company became part of International Business Machines, or IBM, one the world-wide leaders in workplace technologies. 
Over the years, new innovations have been introduced to employee time keeping, such as time cards and computer-linked swipe cards