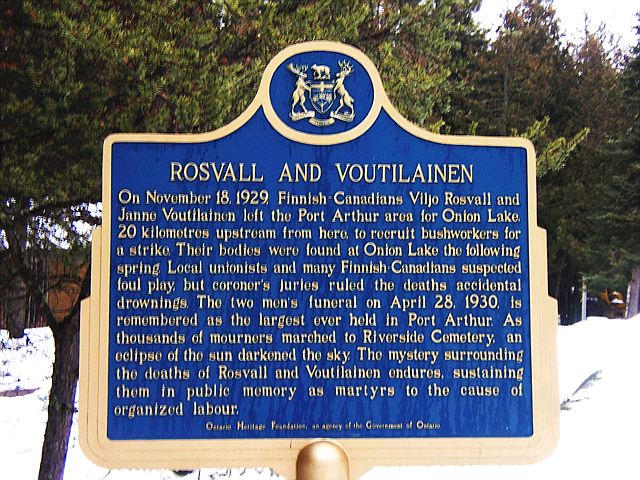 On this day in Labor History the year was 1929. 
That was the day that Viljo Rosvall and Janne Voutilainen disappeared on their way to recruit workers at a bushcamp during a strike in northwestern Ontario, Canada near Thunder Bay. 
They were both Finish-Canadians. 
Viljo Rosvall was an organizer for the Lumber Workers Industrial Union of Canada. 
The union included many Finnish lumber workers and had ties to the Canadian Communist Party. 
Janne Voutilainen was an experienced trapper. 
The two men never made it to their destination—the Pigeon Timber Company Camp, located north of Onion Lake.  
It was unknown what happened to them until the next April.
Voutilainen's body was found in shallow water at the edge of Onion Lake. 
A few days later Rosvall was found, also drowned, in a nearby creek that emptied into the lake. 
The Finnish workers blamed the deaths of the two men on the conservative Finnish camp boss, who oversaw the Onion Lake encampment. 
The coroner's autopsies ruled the deaths accidental drownings. 
But many remained unconvinced and suspected foul play. 
They questioned how an experience trapper such as Voutilainen could fall through the ice and drown in such shallow water. 
Thousands attended the funeral for the martyrs. 
The debate over what happened to the two men continues to this day.
An historical marker reads "The mystery surrounding the deaths of Rosvall and Voutilainen endures, sustaining them in public memory as martyrs to the cause of organized labor."
A headstone donated by the Thunder Bay and District Labor Council was erected in 1993, to honor the graves which had gone previously unmarked. 
The deaths of the two men travelling to organize workers remains a mystery of the Canadian labor movement to this day.