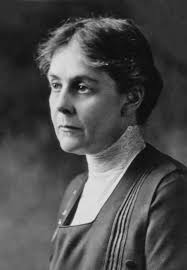 On this day in labor history, the year was 1978.
That was the day OSHA published its lead standard. 
The standard reduced permissible exposure by 75% to protect nearly a million workers from damage to nervous, urinary and reproductive systems. 
As early as 1908, Alice Hamilton, the mother of occupational medicine, noted that lead had endangered workers as far back as "the first half-century after Christ."
In their book, Deceit and Denial: The Deadly Politics of Industrial Pollution, historians Gerald Markowitz and David Rosner add that "throughout her distinguished career, Hamilton was deeply involved in uncovering the relationship between lead and disease in the American workforce." 
Hamilton's groundbreaking research on the effects of lead paved the way for a growing uproar against its continued use. 
After the Occupational Safety and Health Act passed in 1970, occupational and public health activists pushed hard for a lead standard. 
A new generation of industrial hygienists emphasized how unsound, industry-driven conclusions regarding "safe lead levels" impacted women workers and workers of color. 
Industry had long asserted that women and African-Americans were simply more susceptible to lead poison, which served to justify discrimination in hiring. 
Some unions accepted these terms, if only to demand a stringent lead standard that included immediate implementation of engineering controls.
But leading hygienists like Jeanne Stellman blasted these arguments. 
Stellman insisted such conclusions reflected racial and gender bias rather than any credible scientific evidence. 
She added that men, women and children, regardless of race or ethnicity, were all adversely affected by lead exposure. 
The final standard adopted was considered a compromise. 
Discrimination in hiring has continued and enforcement proves difficult.
But even a watered-down standard was too much for the lead industry.
They have been fighting it ever since.