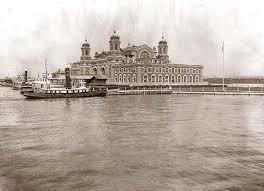 On this day in labor history, the year was 1954. 
That was the day Ellis Island closed its doors. 
More than 12 million immigrants had passed through its gates since its opening in 1892. 
Those steerage and third-class passengers coming to America were processed at the island between 1892 and 1924.
They were routinely subject to medical inspections to determine they were free of disease. 
Legal inspections included questions regarding birth, occupation, destination, finances and criminal record. 
Its busiest year was 1907 with more than a million arriving to enter the United States. 
During World War I, the Island was used as a detention center for presumed enemies and those considered foreign-born subversives. 
After Congress passed the restrictive Immigration Act of 1924, arrivals entering the country slowed to a trickle.
Then Ellis Island became primarily a detention and deportation center. 
During World War II, thousands of Germans, Italians and Japanese made up the majority of those detained, awaiting deportation. 
It also served as a military hospital for returning servicemen and training center for the Coast Guard. 
By 1950, Ellis Island served as a holding center for arriving Communists and Fascists, who were prevented entrance under the recently passed Internal Security Act. 
A Norwegian seaman who had overstayed his leave was released the day the Island closed and told to catch the next ship back to Norway. 
In 1965, President Johnson made Ellis Island part of the National Park Service.
A massive restoration of the Island began in 1984, organized by Lee Iacocca's Statue of Liberty-Ellis Island Foundation. 
It reopened as the Ellis Island Immigration Museum in 1990, featuring numerous exhibits, publicly accessible immigration records and the award-winning film documentary, "Island of Hope, Island of Tears."