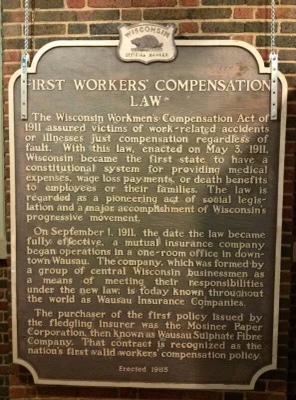 On this day in labor history, the year was 1911.
That was the day the State of Wisconsin passed the Wisconsin Workmen's Compensation Act.
The state became the first to "have a constitutional system for providing medical expenses, wage loss payments or death benefits to employees or their families.
The law is regarded as a pioneering act of social legislation and a major accomplishment of Wisconsin's Progressive movement."
Activist journalism exposed deadly and disfiguring working conditions in the country's industries.
State industrial commissions were established to conduct factory inspections and demand reform legislation and regulations.
Upton Sinclair's initial intent in writing The Jungle was to cultivate a public outcry for better and safer working conditions.
By 1907, the Russell Sage Foundation funded dozens of investigators to study industrial and social conditions in Pittsburgh, Pennsylvania.
Two volumes of essays were produced, entitled The Pittsburgh District: Civic Frontage and Wage-Earning Pittsburgh.
The essay, Work-Accidents and the Law, written by Crystal Eastman, exposed the enormity of work-related accidents and deaths, and the failure of employers to compensate victims and their families.
Her investigation examined several industries, including railroads, steel and coal mining.
She noted, "There is no bright side to this situation. By Industrial accidents, Allegheny County loses more than 500 workmen every year of whom nearly half are American born, 70 percent are workmen of skill and training and 60 percent have not yet reached the prime of their working life. Youth, skill, strength, in a word, human power, is what we are losing."
Eastman's survey worked to shift the burden from workers to employers.
It is largely credited with the passage of workers compensation laws, though it would take decades for similar laws to be enacted in states throughout the country.