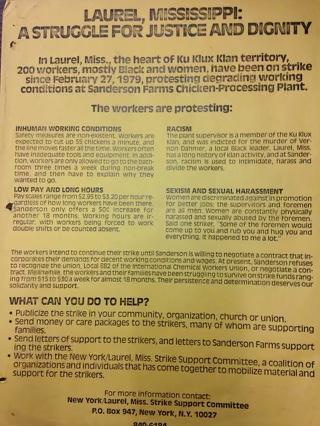 On this day in labor history, the year was 1980.
That was the day 4000 strikers and their supporters gathered for the March for Dignity and Respect in Laurel, Mississippi. 
Over 200 mostly black women members of International Chemical Workers Union Local 882 had been on strike against Sanderson Farms chicken processing plant for 15 months.
Trade unionists from as far away as Cincinnati, Memphis and North Carolina came to march in support.
Sanderson Farms had cleared $58 million in profits but paid workers just $3 an hour.
The women demanded a contract that included more control over assembly line speed, overtime pay, and insurance. 
They complained of desperately low wages, inhumane working conditions, and even the inability to use the bathroom when necessary! 
Workers were given only gloves and an apron once a month, and a file to sharpen their often dull and rusty scissors and knives. 
They often referred to the processing plant as the plantation, where sexual harassment was rampant. 
Women workers often found themselves given dangerous assignments or even fired if they didn't put up with sexual advances of their foremen.
Workers maintained that strikebreakers from the community were desperately poor and threatened with violence if they quit, by local Ku Klux Klansmen who worked as supervisors at the plant. 
Some were known as having been involved in the murder and/or intimidation of civil rights workers in decades past. 
The plant had been organized in 1972, but was extraordinarily weak. 
Nonetheless, women strikers understood that the union still served as an invaluable resource in the midst of a largely unorganized South. 
By the following February, the NLRB ruled that Sanderson had to resume contract negotiations and allow strikers to return to their jobs.