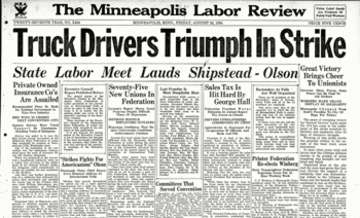 On this day in labor history, the year was 1934.
That was the day Minneapolis Teamsters walked off the job. 
It was an historic strike that coincided with the pivotal Toledo Auto-Lite and West Coast Waterfront strikes. 
Local Teamsters, many of whom later founded the Socialist Workers Party, had been riding a wave of success, having organized the coal yards in February. 
Especially important was the development of the 'Cruising Picket Squad.' 
It became a standard in later CIO battles. 
That spring, union leaders were determined to organize all the truck drivers and warehouse workers in Minneapolis. 
By May, Local 574 had over 5000 members. 
The trucking bosses refused to deal with the union and so they walked. 
The flying pickets toured the city and shut down all trucking. 
Strikers enlisted the support of the unemployed councils. 
They also provided the structure for a Women's Auxiliary that produced important strike literature and bulletins, ran soup kitchens that fed thousands of strikers daily, fought scabs and police on the picket lines and drove picket trucks. 
Historian Bryan Palmer, author of Revolutionary Teamsters: The Minneapolis Truckers' Strikes of 1934,notes that strike leaders looked to the example of Illinois' Progressive Miners of America when it came to building the women's auxiliary.
They too sought to make women an integral part of the strike, thus "encroaching on the male world of waged work."
Strike headquarters were established and as Palmer describes, was a beehive of activity on the eve of the strike "as union carpenters and plumbers installed stoves, sinks and serving counters. Union electricians installed communications wiring."
Donations of money, food, vehicles, and gas rolled in as the strike revved up. 
Local 574 was poised to make Minneapolis a union town.