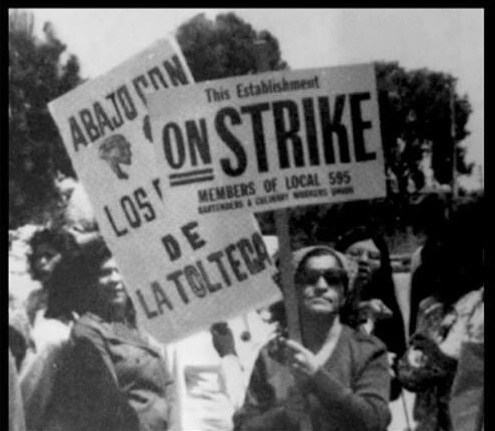 On this day in labor history, the year was 1975.
That was the day workers at Tolteca Foods in Richmond, California went on strike.
Many were undocumented Mexican women who helped organize the plant in 1969.
In his book, The Revolutionary Imaginations of Greater Mexico, historian Alan Eladio Gomez states that the women had grown increasingly frustrated with the lack of union response regarding "speed-ups, immigration raids, discretionary firings, substandard wages and unsafe working conditions and began to look elsewhere for support."
They reached out to the organization CASA, which provided legal and social services for undocumented immigrants.
The women decided to strike without authorization form the Contra Costa Labor Council.
They packed the council's emergency meeting, where they put their scarred bodies on display to attest to the dangerous and abusive working conditions and poor wages.
Just as the council sanctioned the strike, workers learned the company started removing machinery from the factory.
They packed the picket lines to stop the trucks from taking out the equipment.
The first driver stopped, the second plowed through several women.
The strike committee won an injunction to prevent removal of equipment and after three weeks, workers won their demands.
Gomez argues the strike was important for several reasons.
It demonstrated that a largely female and undocumented workforce could organize and win a strike against a transnational company, at a moment when unions were increasingly under attack.
They maintained a rank-and-file independence that built support for their demands from their union leaders and the broader community.
The women workers at La Tolteca fought for bread and butter issues.
They also worked to reshape their union to take on broader issues of social justice that included immigration rights and women's rights.