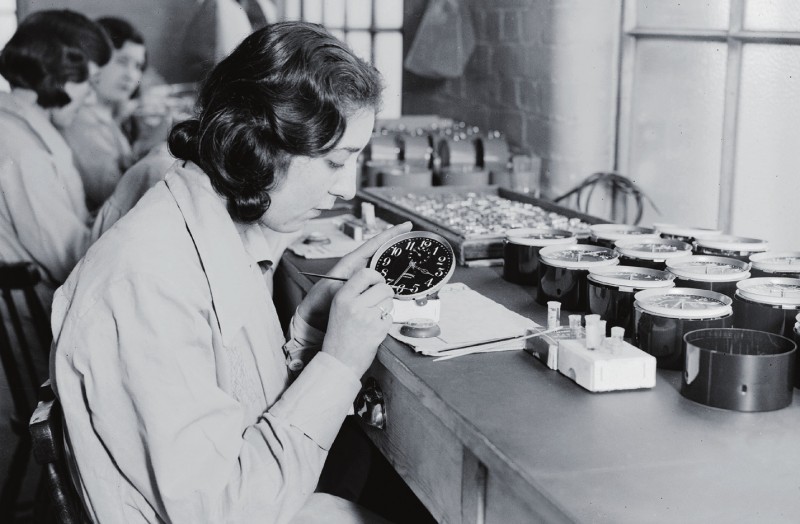 On this day in labor history, the year was 1925.
That was the day the first civil suit for damages was filed on behalf of the 'Radium Girls.'
During the 1910s and 20s, Radium was all the rage.
It was considered a medical cure-all for everything from blindness to asthma.
The U.S Radium Corporation employed hundreds of young women in New Jersey and Illinois to paint radium onto watch dials and military instruments.
Women workers were instructed to shape the paintbrushes to a fine point with their lips in order to paint the numbers onto watch faces.
They soon fell ill. Many complained of losing scores of teeth and shattered and rotting jaws.
The death toll began to rise. U.S Radium and other related companies initially tried to smear the women as suffering from syphilis.
Katherine Wiley of the New Jersey Consumers League began investigating the use of radium by dial painters.
She was also concerned about how emissions affected the community surrounding the plant.
Wiley enlisted the help of Alice Hamilton, mother of industrial medicine and occupational toxicology.
The Chief Medical Examiner of Essex County determined the women suffered from radium exposure. They were exhaling radon gas.
The findings were earth shattering for the industry.
Case proceedings were highly publicized in the press.
Extremely frail and sick young women appeared in court, barely able to walk or testify.
The company agreed to settle the case: $10,000 for each woman, a $400 a year pension, and medical care.
Women at the Ottawa plant suffered for years before they finally learned the truth about their job related illnesses.
The case impacted fields related to occupational safety and health.
It also fundamentally broadened scientific understanding of radioactive elements.