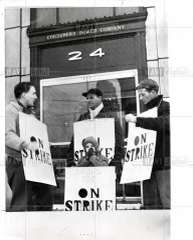 On this day in labor history, the year was 1937. 
That was the day Consumers Power Company employees near Flint, Michigan shut off generators and turbines at the Zilwaukee power plant. 
2000 workers organizing with the Public Utilities Union under the direction of the UAW, effectively cut power to everything except hospitals, city sanitation plants and dairies. 
The company's office workers joined the walkout, hanging a banner across the Flint District office building that read "Quit Stalling."
The company had dragged its heels on an agreement promising union recognition, a closed shop, wage increases and an end to 24 hour scheduling of troubleshooters. 
The strike cut power to an estimated 165,000 Flint residents. 
It also forced the closing of six area General Motors plants and impacted industrial centers like Saginaw and Bay City.
The strike ended a temporary truce Governor Frank Murphy had forced between the UAW and Consumers Power, which ended a several hours long walkout at the power plant earlier in the month. 
That strike paralyzed 13 counties across the Saginaw Valley. 
When news of the second strike hit, Murphy put the National Guard on stand-by. 
He snapped orders at UAW leader Homer Martin to  "Get those lights back on! I'll not stand by and see those people in darkness tonight!" 
Top union officials insisted the strike was unauthorized and that a tentative settlement had been reached. 
But workers demanded to see the actual terms of the agreement before they agreed to go back to work.
Though workers ratified the contract, tensions continued. 
Governor Murphy demanded that county sheriffs organize a special force to prevent future utility strikes, while the UAW vowed to curb wildcat strikes through investigation and discipline.