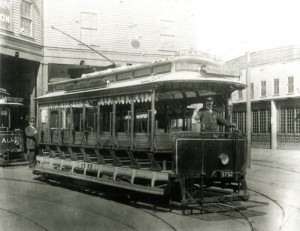 On this day in labor history, the year was 1912. 
That was the day Boston Carmen of local 589 voted to strike.
Workers had been fighting to organize for years. 
They now demanded union recognition. 
In the months before the strike, union representatives had attempted to meet with management, with no success. 
The President of the L, in the days before it was called the T, went so far as to summarily fire 282 employees, claiming the need to maintain discipline. 
Incensed at the union-busting maneuver, workers walked off the job in the early hours of the morning. 
They began cutting trolley ropes, smashing train windows and removing handles on controller boxes. 
In an effort to bust the strike, management formed a company union.
They also brought in over 700 professional strikebreakers, and provided housing for the scabs.
Over the course of several weeks, dozens of strikers were arrested on charges that ranged from calling strikebreakers scabs to trumped-up felony charges.
AFL president Samuel Gompers visited the picket lines in a show of solidarity. 
Area labor unions provided financial and legal support.
The union filed charges with the State Board of Arbitration.
They argued management had caused the strike by firing hundreds of workers for union activity and coercing workers against joining the union.
Once the Board confirmed the union's charges, the Governor and Mayor both pushed for resolution.
As well, Boston's Central Labor Union threatened a general strike.
Union recognition finally came on July 28th and the first contract was signed a year later. 
Since that time, local 589 has weathered more than a century of anti-union storms as it continues to fight for better wages, hours, and working conditions.