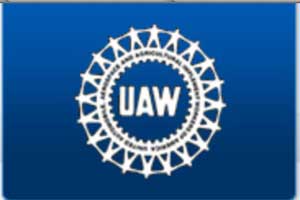 On this day in labor history, the year was 1998.
That was the day GM workers in Flint, Michigan walked off the job.
9200 workers with UAW locals 659 and 651 had shut down a company, which at the time, accounted for one percent of the country's economic output. 
Production at GM plants throughout the U.S., Canada and Mexico all came to a screeching halt. 
Many noted that what began as a localized walkout became the most significant strike against GM since 1970. 
Management had moved dies out of the Metal Center and shipped them to operations in Canada. 
In an act of international solidarity, brothers and sisters in the CAW refused to handle the dies. 
The seven-week strike was solid against a Wall St. attack on one of the last closed shops in the country. 
The strike was also popular with autoworkers elsewhere, who confronted assembly line speedup, mandatory overtime and constant fear of plant closures. 
It inspired GM workers in Indiana, Ohio and California to strike. 
Even workers at the Tennessee-based Saturn plant, touted as a model in labor-management relations, voted to strike in response to threatened outsourcing. 
But the strike essentially ended in a standoff. 
The union had stopped GM from closing plants in Flint and Dayton, Ohio, at least for a while. 
And GM agreed to invest millions in modernizing the Flint facilities. 
But, weeks after the strike ended, GM bosses avowed more union-busting attacks. 
They declared a two-pronged strategy: First, they intended to spin off the Delphi parts division as an independent operation. 
Then, GM announced they planned to close existing U.S. plants in favor of new facilities that assembled pre-made parts, fabricated at non-union suppliers.
The war against the UAW had begun.