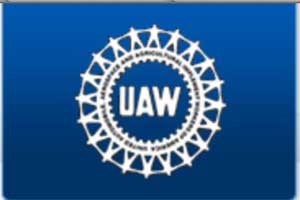 On this day in labor history, the year was 1941.
That was the day Ford Motor Company finally signed with the United Auto Workers.
Ford was last of the Big 3 to sign with the UAW. 
The hard-won victory came after nearly three decades of struggle to organize there.
Anyone attempting to build a union had been met with the full force of Ford's Service Department, led by thug Henry Bennett.
Intimidation, Jew-baiting, redbaiting, firings, and beatings were common in the years leading up to unionization.
Some unionists had even been murdered. 
The company finally caved after a solid strike shut down production at the massive River Rouge complex in April. 
Several union committee members had been fired and the UAW called a strike in their defense. 
Tens of thousands of black and white workers poured out of their departments to join the picket lines. 
They blocked all plant gates with their cars 
Strike bulletins, press statements and radio broadcasts kept workers updated on the latest decisions. 
A week into the strike, the NLRB ruled an election be held within 45 days. 
Strikers went back to work on guarantees their coworkers would be reinstated. 
The following month, the UAW won union certification, after 60,000 rallied in Detroit's Cadillac Square in support. 
When Ford finally signed the first contract, it guaranteed competitive wages, a closed shop, and dues check-off.
The first contract also ensured seniority rights, grievance procedures, and pensions.
The union immediately took advantage of the contract clause that prohibited racial discrimination.
They set up a commission to combat racism on the shop floor, issuing anti-racist literature and backing the elections of black committeemen and stewards. 
Labor historian Steve Babson notes, "It was a watershed in American history."