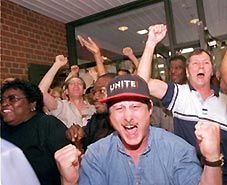 On this day in labor history, the year was 1999. 
That was the day 5000 textile workers at six Fieldcrest Cannon Mills in North Carolina began voting for representation by the Union of Needletrades, Industrial and Textile Employees, better known as UNITE. 
The victory, later validated by the NLRB, was a significant win for Labor in the anti-union South.
The union's organizing director, Bruce Raynor stated, "It feels like we just organized G.M. Suddenly, we've got a beacon to show other textile workers that they can do it." 
Labor historian Leon Fink noted that, "It's a stunning victory for the union. It's the biggest breakthrough in a traditional Southern industry for probably the last quarter century." 
Then AFL-CIO president, John Sweeney remarked that it was the largest union victory in a Southern textile mill in history. 
The election and victory came after a 25-year struggle and four previous attempts to organize at Fieldcrest Cannon Mills. 
Many noted that the young, immigrant workforce made the difference. 
Conditions had been worsening at the mills.   
Workers fed up with production line speedup, punitive decreases in piecework premiums and company harassment, were compelled to vote union. 
One worker stated he and many others were sick of lies management told, to keep workers from voting yes in previous elections. 
Supervisors routinely intimidated workers to vote no with promises of higher wages or when that failed, threats of deportation.
Workers were barraged with various forms of antiunion propaganda. 
They found antiunion videos mailed to their homes. 
Some were paid extra to distribute 'Vote No' t-shirts on the shop floors. 
The company finally recognized the union and negotiated a first contract that guaranteed higher wages, pensions and other benefits.