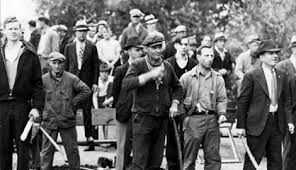 On this day in labor history, the year was 1937. 
That was the day striking steelworkers battled back-to-work forces at Newton Steel in Monroe, Michigan.
Steelworkers were on strike against three steel companies across five states in the push to organize 'Little Steel.'
Of the three, Republic Steel sites had experienced brutal picket line violence, especially in South Chicago. 
Republic had recently purchased Newton Rolling Mill.
Management there was bent on forcing the reopening of the plant. 
John L. Lewis promised 8,000-10,000 workers from Detroit to bolster picket lines. 
The Mayor of Monroe, Daniel Knaggs called upon all able-bodied men with military experience to enlist in a 'citizen's army' to escort scabs back to work. 
Police and hundreds of deputies set up check points on the outskirts of the city to stop suspected CIO supporters from entering Monroe. 
Black SWOC organizer Leonides McDonald from Chicago had already been dragged from his car, beaten, and driven from town on foot by scabs earlier in the day. 
At the same time, Mayor Knaggs, company officials as well as SWOC and company union organizers met in the state's capitol with Governor Murphy to negotiate a settlement. 
As they met, 200 more special police were sworn in and instructed in the use of side arms and tear gas. 
Police, deputies, and scabs armed with guns, clubs and tear gas shattered the picket line that evening. 
Then deputies seized strikers' cars and drove them into the river! 
18 strikers were hospitalized.
Outraged UAW supporters from Pontiac declared a labor holiday in protest and headed to Monroe. 
But UAW officials ordered them to turn back in an effort to stem the anti-union violence. 
The organizing drive had been dealt another serious setback.