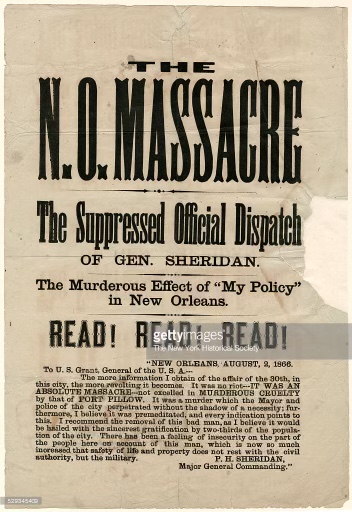 On this day in labor history, the year was 1866. That was the day known as the Mechanics Institute Massacre.
Black and white republicans in New Orleans called a constitutional convention to consider voting rights for African-Americans.
It would be another three and a half years before the ratification of the 15thamendment.
Freedmen, many of them Civil War veterans gathered in the Fauburg-Marigny and proceeded to march to the convention, held at the Mechanics Institute on Canal Street.
Just before they reached the Institute, Black Republicans were confronted by a mob of white democrats, ex-Confederate soldiers and police, determined to prevent blacks from attaining any semblance of civil or political rights.
The delegates were able to momentarily beat back the mob and reach the Mechanics Institute.
But the racist mob charged again and started shooting. 
By the time it was over, at least 50, mostly black Republicans were shot dead in the street. More than 200 were seriously injured.
Historian Justin Nystrom notes that it was an absolute massacre.
But he adds it was "actually very useful to the Republican Party because it gave them a concrete example of the kinds of problems former Confederates were causing in the South."
He adds that events such as these helped influence voters to bring more Radical Republicans into Congress.
These politicians would be key to passing the Reconstruction Acts.
Nystrom points to a poem written by Camille Naudin, to commemorate the one-year anniversary of the massacre.
Titled "Ode to the Martyrs," the poem mourns the massacred while bitterly observing that Jefferson Davis remains alive: "But for the Mulattos, blacks and whites, this fact I must tell: Victor Lacroix is dead. Jeff Davis lives still."