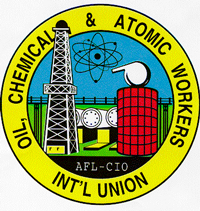 On this day in labor history, the year was 1980.
That was the day Robert Goss, president of the Oil, Chemical and Atomic Workers, called a nationwide strike against the oil industry. 
The union sought to renegotiate for higher wages and better medical and dental plans in the second year of a two-year contract.
24-hour pickets were set up immediately.
For a good portion of the strike, workers at many of the refineries stopped strikebreaking scabs from entering.
But some refineries used management and contract workers to maintain production levels effectively.
Strikers confronted scabs daily and in a few instances, faced violence on the picket lines. 
At least one manager crossing picket lines was charged with second-degree assault, after having rammed his car into a picketer at a Texaco refinery in Washington State. 
In Texas City, the deaths of two contract workers at an Amoco refinery made news when Amoco refused to allow a union representative to accompany an OSHA inspector through the site. 
Amoco sought a restraining order against OSHA and accused the agency of interjecting itself into a labor dispute. 
At Houston's Atlantic–Richfield, women mobilized to form picket lines in defiance of an injunction against union pickets.
In Los Angeles, area unions including UAW, UE, ILWU and the Teamsters formed the Los Angeles Harbor Council in solidarity with the strike.
On March 1, the Council conducted a one-day shutdown of the L.A. ports and strike support rally that demanded "Victory to the OCAW Strike!"
Oil workers would stay out fourteen weeks before the strike was finally settled.
They successfully won pay increases, and increases in employer contributions to the medical plan and a dental plan for the first time.