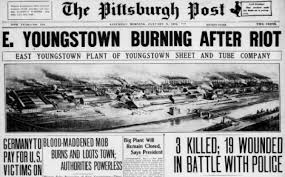 On this day in labor history, the year was 1916. 
That was the day of the Youngstown Massacre. 
It was World War I and the demand for steel in war production had skyrocketed.
Steel workers at Republic Steel went on strike in late December of 1915 to demand a wage hike and overtime pay.
They also wanted a decrease in the workweek to 48 hours and improved safety.
Workers at Youngstown Sheet and Tube soon followed. 
The number of striking workers grew to well over 13,000. 
It was on this day that some 6,000 strikers, their wives and children gathered at the bridge across from the gate at Youngstown Sheet & Tube, intent on stopping scabs from entering the plant. 
Guards at the mill left company property to confront strikers at the bridge and began attacking them with tear gas and live ammunition. 
The upheaval would soon spread to the business district of East Youngstown.
By the time the dust settled the next morning, several blocks of businesses were destroyed, while at least 3 strikers lay dead, another 30 seriously injured at the hands of company hired guns. 
National Guard troops were called in to quell the disturbances. 
A grand jury convened to determine the cause of the disorder. 
They ruled that over 100 companies were in violation of the state's Valentine Anti-Trust Act and conspired to keep wages down in the steel industry. 
They held the actions of Youngstown Sheet and Tube primarily responsible for the death and destruction that reigned over the city.
The strikers won an immediate 10% wage increase and better company housing.
But the court dismissed the grand jury's findings.
It would be decades before the industry finally unionized.