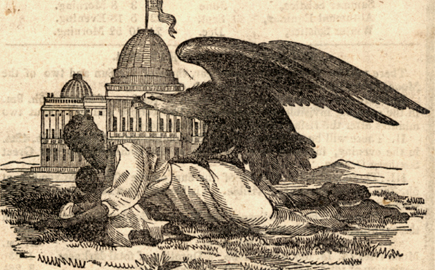 On this day in labor history, the year was 1804.
That was the day Ohio became the first non-slaveholding state to enact a series of Black Codes.
Ohio had previously been a part of the Northwest Territory, which barred slavery in 1787.
When Ohio entered the Union in 1803, its constitutional convention had established the previous November that slavery would not exist in the state.
But delegates were split evenly regarding black suffrage and ultimately voted to disenfranchise African-Americans.
Several months later, Ohio caved to pressure from the nearby slaveholding states of Kentucky and Virginia.
The state enacted codes to restrict immigration of free blacks and runaway slaves. 
In order to settle and work in Ohio, Blacks had to present a certificate of freedom, register and pay a registration fee.
The Black Codes also enforced compliance with fugitive slave laws and set a precedent for neighboring Northern states to develop their own.
The Codes became more oppressive in 1807, when they were amended to also require $500 "good behavior" surety bonds as a residence requirement. 
Despite this and other restrictive measures, the black population of Ohio grew annually, as blacks escaped north to freedom by following the Ohio River and Underground Railroad in the state and neighboring Pennsylvania.  
Abolitionism as a movement began in the state as early as the 1820s, when John Rankin moved to Ripley, Ohio to join anti-slavery communities and established his home as a beacon of safety for blacks escaping the South.
The movement gained steam in the 1830s with the founding of the Ohio Anti-Slavery Society, the newspaper, The Philanthropist and Oberlin College.