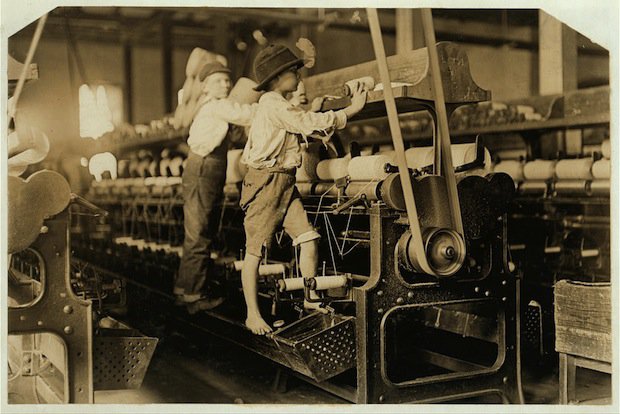 On this day in labor history, the year was 1909.
That was the day Lewis Hine photographed child workers standing on spinning frames to mend threads and replace empty bobbins at the Bibb Mill No.1 in Macon, GA.
It was just one example of the appalling use of children in industrial labor.
Hine built his career on photographic portraits of young miners and mill workers, child cotton pickers and factory workers.
In 1908, he was hired by the National Child Labor Committee to document child laborers across the country.
For the next fifteen years, Hine would contribute over 5000 photographs to the cause of ending child labor.
Photo historian Daile Kaplan described the ways in which Hines captured these images writing: "…Hine the gentleman actor and mimic assumed a variety of personas--including Bible salesman, postcard salesman, and industrial photographer making a record of factory machinery--to gain entrance to the workplace. When unable to deflect his confrontations with management, he simply waited outside the canneries, mines, factories, farms, and sweatshops with his fifty pounds of photographic equipment and photographed children as they entered and exited the workplace."
NCLC investigators referenced the photographs in reports on particular industries and locations.
The NCLC used the photos to illustrate its own publications and succeeded in placing them in newspapers, progressive publications and exhibits.
One NCLC poster that featured Hine's portraits read,  "Making Human Junk: Shall Industry Be Allowed To Put This Cost On Society?"
By 1912, the NCLC persuaded Congress to create a United States Children's Bureau.
The two organizations worked together to investigate abuses of child laborers.
Years of legislative and judicial battles followed, until finally in 1938 Congress passed the Fair Labor Standards Act.