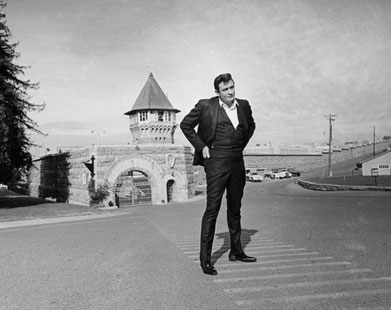 On this day in labor history, the year was 1968. 
That was the day Johnny Cash played Folsom Prison. 
The Man in Black had played numerous free prison concerts before.
Country-music Legend Merle Haggard remembered seeing him perform at San Quentin a decade earlier.
Columbia Records recorded the two concerts at Folsom for release. 
It was this recording that many credit with the revitalization of Cash's career. 
His daughter, Rosanne believes the 1968 appearance signified her father's own personal liberation; "…that was the moment that he came into the light…when he embodied who he really was." 
Performing with The Tennessee Three, June Carter, Carl Perkins and The Statler Brothers, Cash hit the charts with Folsom Prison Blues, which sold more than three million copies at the time.
He also took the opportunity to advocate for prison reform and prisoner's rights, providing congressional testimony on the subject in the early 1970s. 
His brother told the BBC in an interview, "He identified with the prisoners because many of them had served their sentences and had been rehabilitated in some cases, but were still kept there the rest of their lives. He felt a great empathy with those people."
Cash might not have actually shot a man in Reno, but he always sided with the underdog.
His songs highlighted the workingman's life, from the sharecroppers, coalminers and auto workers, to the railroaders, truckers and prison chain gangs. 
Cash always gave an unromanticized view of hard living and hard labor, as well as interracial and class solidarity.