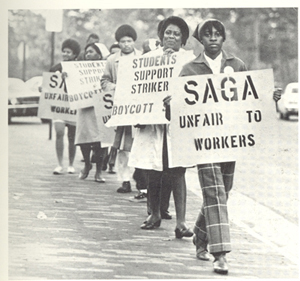 On this day in labor history, the year was 1969.
That was the day black food workers went on strike at University of North Carolina-Chapel Hill.
Their strike intersected many points central to the social upheaval of the period, including rights of public sector workers.
Besides extremely low wages, workers complained of racial abuse and discrimination on the job.
When the administration ignored their demands, the cafeteria workers sat down at the tables and refused to return to the kitchens.
Black women workers like Mary Smith and Elizabeth Brooks organized protests and rallies to build public support on and off campus.
As the strike wore on, many students rallied to their defense.
The Black Student Movement was the first campus group to support the cafeteria workers.
Noting the lag of desegregation on Southern campuses and in the South generally, black students added their own demands to those of the workers.
They included the expansion of black student aid programs and black studies programs.
Clashes escalated between students at Lenoir Hall a few weeks later when opposing white students attacked integrated groups of students sympathetic to the strike, forcing the closure of the cafeteria hall.
Governor Robert Scott ordered the National Guard on standby.
Finally, workers formed a union and won many of their demands.
This benefitted 5000 other state employees as well.
But a month later, the UNC administration betrayed them by contracting out food service.
Many were laid off or fired for union activity.
By the end of the year, the now AFSCME organized workforce struck again over many of the same issues.
When renewed student strike support was threatened, management quickly caved and the strike ended in victory.