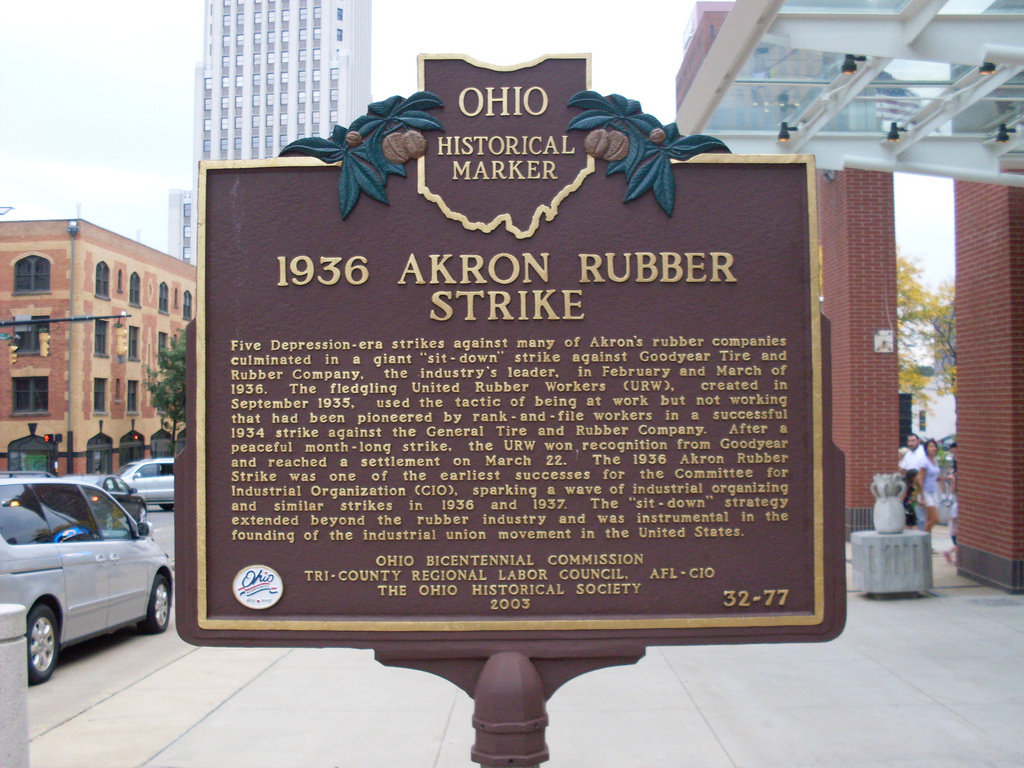 On this day in labor history, the year was 1936.
That was the day more rubber workers sat down in Akron, Ohio.
Tire builders in Goodyear's Plant 2, Department 251-A sat down when 700 coworkers were laid off. Goodyear had been running four, six-hour shifts.
They hoped to reduce the workforce by implementing three, eight-hour shifts with no increase in pay. Management moved quickly to fire all of the strikers.
By the 17th, all 4000 workers at Goodyear voted to strike over the layoffs and firings, speed-up and the new shift hours and pay.
The enormous, 11-mile facility was immediately shut down.
In his book, Strike! historian Jeremy Brecher indicates that few if any were union members.
The United Rubber Workers was hesitant to associate itself with the sit-down.
Rubber workers organized themselves.
They set up 24-hour pickets at dozens of gates, built striker shanties and set their demands.
After six days, the URW sanctioned the strike.
Brecher describes the scene: "The company…secured an injunction against mass picketing. 10,000 trades people from across the city gathered with lead pipe and baseball bats to stop 150 sheriffs' deputies from opening the plants.
The Summit County Central Labor Council guaranteed a general strike if Law and Order League vigilantes carried out a threatened March 18 attack on picket lines.
The vigilante movement was paralyzed. Federal mediators demanded a return to work and arbitration.
Workers responded, "No, no, a thousand times no, I'd rather die than say yes."
Finally, Goodyear capitulated on most of the demands, except formal recognition of the union.
Rubber workers returned to work largely victorious."
After renewed struggles, workers finally won union recognition a year later.