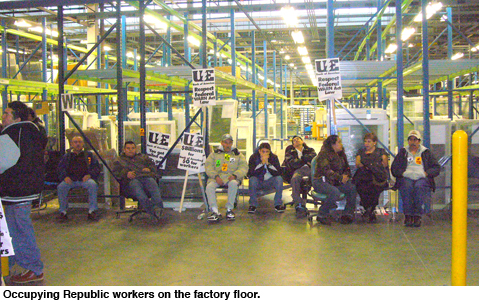 On this day in labor history, the year was 2008.
That was the day UE local 1110 members at Republic Windows in Chicago began a five–day occupation to protest the imminent closure of their plant.
A month earlier, Republic workers witnessed management moving machinery out of the factory.
They began monitoring where the machinery was going and soon learned it was headed for a new, non-union plant in Iowa.
They planned a possible plant occupation. By December 2, management announced the plant was closing in just three days.
Republic Windows owner Richard Gillman blamed Bank of America for refusing to extend credit, just as the federal government had bailed out the banks in a $700 billion deal.
Workers learned they would receive no severance or vacation pay, despite WARN Act mandates.
The next day they rallied out in front of Bank of America, chanting, "You got bailed out, we got sold out." Workers were determined to occupy the plant that Friday, when they went to pick up their last paychecks.
Police refused to remove the sit-downers and the occupation quickly made national news.
Local labor leaders and trade unionists, activists and politicians all visited strikers and lent their support. Journalist Kari Lydersen recounts the events in her book, Revolt on Goose Island, noting the "donations of food, blankets, pillows, sleeping bags and other necessities that poured into the factory."
Protests of Bank of America spread across the country. By the following Wednesday, workers learned that though they could not keep their plant open, they would at least win severance and vacation pay.
In 2012, some of those workers reopened the plant under the name, New Era Windows, as a worker-run cooperative. They specialize in energy efficient vinyl windows.