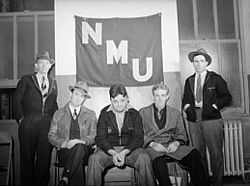 On this day in labor history, the year was 1936.
That was the day some fifty policemen wielding blackjacks, attacked picketers from the National Maritime Union on the Houston docks.
West Coast Maritime workers had shut down ports that fall. The East Coast maritime unions called their members out in sympathy and the strike soon spread to Gulf ports as well. 
In many ports around the country, workers were fighting shippers and the AFL-led, International Seaman's Union.
Sailors in Houston complained of atrocious working conditions, where rotting food and disease, including tuberculosis were widespread on board most ships.
When in port, they suffered exploitation at the hands of shipping agents who also acted as boardinghouse keepers.
They found the ISU was incapable of defending their interests and readily struck when organizers from the new, CIO-led, National Maritime Union put out the call.
During the strike, NMU and ISU organizers clashed, and strikers faced repression.
Early in December, ISU business agent shot down NMU militant John Kane in Houston.
During the same month, ISU seaman Peter Banfield died in Galveston after a brawl with NMU strikers.
According to historians, George Norris and Michael Botson Jr., many NMU seamen came to believe "there wasn't much difference between Port Arthur under the oil companies and Hamburg under the Nazis."
Then on Christmas Eve, police attacked about 150 strikers, and eighteen were sent to the hospital for their injuries.
The nationwide strikes were called off the following February, with mixed results.
But the NMU won union recognition that summer.
They succeeded in establishing union hiring halls and fought hard against segregation, racial discrimination and Jim Crow hiring practices in Texas ports and nationwide.