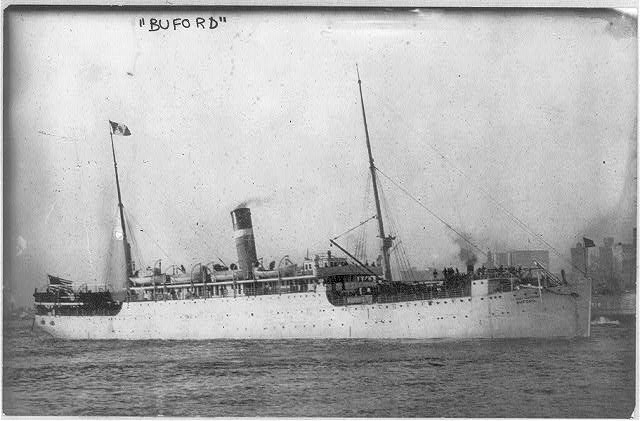 On this day in labor history, the year was 1919. 
That was the day Red Scare deportations began. 
Two hundred forty-nine radicals, including anarcho-feminist, Emma Goldman, were packed onto the USS Buford and deported to Russia. 
The year 1919 had seen massive social convulsions.
The Seattle General strike had kicked off the year. 
It was followed by coal strikes and steel strikes, bombings and race riots. 
There were increasing fears of Communist ideas and influence in the wake of the Bolshevik Revolution.
These events touched off a draconian response by the US federal government. 
Together with the young J. Edgar Hoover, Attorney General, A. Mitchell Palmer conducted mass raids and arrests of more than a thousand "suspected" working class radicals. 
The Department of Labor agreed that proclaimed membership in the Union of Russian Workers was a deportable offense and received the USS Buford on loan from the War Department to carry out the deportations. 
The ship set sail and docked in Finland, where trains transferred the deportees into the Soviet Union. 
The vast majority of those deported had no criminal records, and had never participated in acts of terrorism. 
They were expelled for speaking out about their political opinions. 
According to Regin Schmidt, author of Red Scare: FBI and the Origins of Anti-Communism in the United States, Employers' Association fueled the anti-radical climate. 
They were engaged in an intense open-shop counter-attack against post-war organizing campaigns and strike activity. 
"The main goal was to discredit unions as subversive, Bolshevistic and alien to basic American values." 
Donning the name, 'The American Plan,' closed shops were referred to as 'Sovietism in disguise,' and propaganda campaigns were waged to ensure blacklists, internal union dissension, yellow dog contracts and strikebreaking.