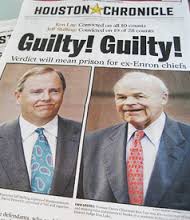 On this day in Labor History the year was 2001. 
That was the day that the energy trading giant Enron filed for chapter 11 bankruptcy. 
It was the biggest bankruptcy in U.S. history up to that time. 
At its peak, the Houston based Enron was the seventh largest company in the country.   
A combination of mismanagement and all-out greed sank Enron.
The company used numerous accounting tricks and loopholes to hide billions of dollars of debt from its shareholders.
In August of 2000 shares in the company were worth $90.75. 
By November 30, 2001, they had plummeted to just 26 cents.
After filing bankruptcy thousands of Enron employees were left to go down with the ship. 
Many employees and retirees held thousands of dollars' worth of Enron stock. 
Employees were told the company would recover. 
They were encouraged not to sell off their stock, and even to buy more.
At the same time top executives were dumping their stock holdings.
When the company went under, the employees' retirement accounts were wiped out. 
Some who had already retired had to reenter the workforce.
The following January, a New York Timesreport shared the stories of some of the 4,000 employees laid off in the immediate aftermath of the bankruptcy. 
One was told he lost his job by voicemail. 
Another was told he had 30 minutes to clear out his desk. 
Multiple law suits won a portion of the money back for Enron stockholders. 
But employees lost more than $2 billion in retirement funds.
More than twenty top executives were found guilty for the crimes they committed while running the company. 
Enron became synonymous with the corporate greed that has been the hallmark of twenty-first century America.