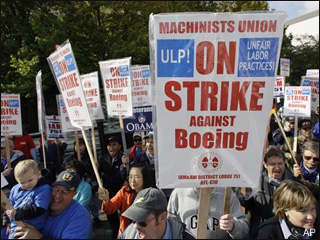 On this day in labor history, the year was 1995.
That was the day Machinists at Boeing ended their 69-day strike.
33,000 workers won increased pay and health benefits.
They also won job protections against subcontracting.
Contractual clauses against subcontracting were important, especially given the fact that NAFTA had just been passed two years earlier.
The contract specified that the union be given three months notice regarding any plans to subcontract out work.
It also incentivized keeping work in house by calling for increased benefits to laid-off workers and mandatory retraining and reemployment of workers displaced by subcontracting.
These provisions came after IAM members rejected two previous contract offers.
They were furious at the initial demands for concessions, even as Boeing executives were awarded multimillion-dollar stock options.
At the time, the IAM and its members lauded this as a total victory.
And for a few years, Boeing abided by the contract they signed.
Subsequently, Boeing bosses have routinely violated their agreements. 
Many of these provisions were lost in the 2002 contract, and then recaptured in 2008. 
But the next contract negotiations witnessed a renewed fight for job security. 
Over the past two decades, Boeing workers have seen massive lay-offs, subcontracting, pension freezes and phase-outs, and relocation of their work.
All while the company rakes in billions in profits, gets lucrative tax breaks and subsidies, and has close to 5000 back orders for planes.
Subcontracting clauses are important but can only work when they're enforced. 
Victories like the winning strike in 1995 can serve as a reminder for workers today that if they stand together in solidarity they can win better wages, hours, and conditions at the bargaining table.