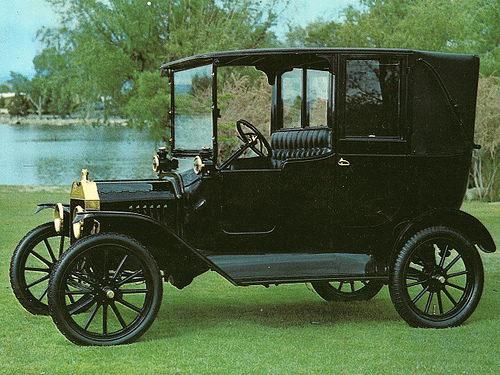 On this day in labor history, the year was 1915.
That was the day the one millionth Model T rolled off the Ford assembly line in Highland Park, near Detroit.
Henry Ford started Model T production seven years earlier. For nearly 20 years, the Tin Lizzie served as the first affordable vehicle, opening up travel and leisure to a new middle class.
Ford refashioned the packing house conveyor to develop the assembly line.
Before production moved to the sprawling modern River Rouge complex, the Highland Park plant was considered the factory that changed the world.
Ford's ambition to produce cars for the multitudes extended to his workers. As part of his campaign to beat back organizing drives by the Industrial Workers of the World, Ford instituted the $5 day at the Highland Park plant.
For auto workers, buying a Model T even with the $5 day wasn't so easy.
The $5 day actually amounted to $2.34 in wages and an additional $2.66 a day in profit sharing if Ford determined the worker was actually "living right."
Investigators from his Sociological Department visited workers in their homes.
The routine intrusions into the personal lives of workers away from the job included determining spending and cleanliness habits, whether they drank or smoked, whether they were married or single, the state of workers' marital relations and family values.
Workers who failed these home inspections were given six months to shape up or be fired.
Ford ruled young single men, women and blacks completely ineligible from the wage program. For a time, employee turnover plummeted and production increased.
But wartime inflation and deteriorating working conditions all but killed the $5 day, which ended in 1921.