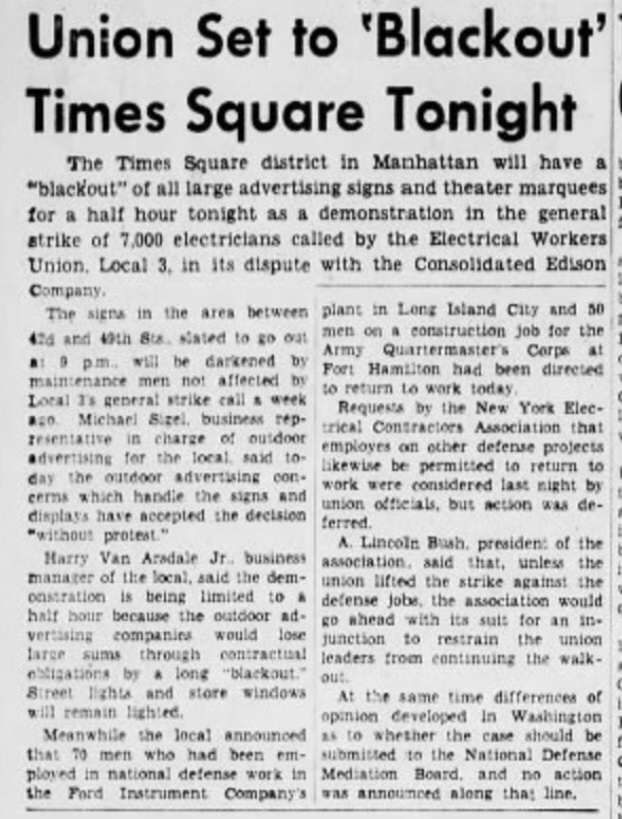 On this day in labor history, the year was 1941.
That was the day Michael Siegel, Business Agent for New York City's Local 3, IBEW announced the lights would be going out on Broadway for an half an hour.
Electricians had been on strike for nearly a week to protest Consolidated Edison's refusal to employ union electricians for work on its new Waterside plant.
The company claimed it could only use members of the Brotherhood of Edison Employees, an 'independent union.'
The walkout also affected electricians at area construction sites and at 25 defense contractors across the city.
The union had just agreed to exempt electricians at the Brooklyn Navy Yards, where the strike held up work on four battleships.
And the IBEW allowed electricians at Ford Instrument to return to work, given they had orders for $100,000,000 in defense instruments.
Siegel announced that at 9 p.m. the following evening, maintenance men not on strike, would pull the switches on all signs in Times Square in sympathy, to bring attention to their plight.
After the half-hour blackout, the IBEW continued to fight injunctions brought by the New York Electrical Contractors Association.
Harry Van Arsdale Jr., business manager for Local 3, declared the blackout had been more successful than they had hoped.
He characterized the switch-off as a "blackout for enlightenment."
Naval officials complained however that the strike held up vital defense projects.
Newspapers noted that Broadwayites suddenly noticed the moon when an estimated 10 million watts of super-lighting was turned off.
A Times Square veteran noted it was darkest since 1918, when a Zeppelin raid alarm caused a blackout.
The strike was called off a week later when ConEd acknowledged its previous agreement with IBEW.