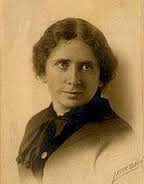 On this day in labor history, the year was 1882.
That was the day trade union leader and suffragist Rose Schneiderman was born.
She arrived from Poland and settled in New York City with her family as a child.
Her father died soon after, and Rose entered the workforce at the age of 13. 
She sewed caps and organized with the United Cloth and Cap Makers.
Rose became a chief organizer with the New York Women's Trade Union League and played a prominent role in the 1909 Uprising of the 20,000.
While touring Ohio to rally support for women's suffrage in 1912, Schneiderman said "What the woman who labors wants is the right to live, not simply exist–the right to life as the rich woman has the right to life, and the sun and music and art.
You have nothing that the humblest worker has not a right to have also. The worker must have bread, but she must have roses, too."
She grew frustrated with the privileged middle class women of the New York WTUL and began organizing with ILGWU.
But she soon quit, aggravated by the leadership's indifference toward organizing women workers.
Schneiderman devoted her energies to women's suffrage.
She would soon return to the WTUL.
By 1926, she served as its national president and became close friends with Eleanor Roosevelt.
President Roosevelt appointed her to the National Advisory Board where she wrote NRA codes for industries with women workers.
Labor historian Annelise Orleck noted "Schneiderman attacked sexual segregation in the workplace, tried to unionize women… called for state regulation of working conditions… She argued for comparable worth laws, government-funded childcare, and maternity insurance... Those ideas and dreams are the legacy of Rose Schneiderman."