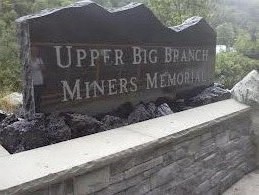 Today marks the anniversary of the Upper Big Branch disaster.
This is the second of two parts commemorating that moment in labor history in 2010.
Accumulation of explosive methane gas was so pronounced that the mine had to be evacuated several times leading up to the disaster.
A 126 page Governor's Independent Investigation Panel report detailed the systemic failures of safety systems and at governmental agencies to enforce regulations. Lack of proper ventilation, adherence to rock dusting standards and proper maintenance of machinery were main factors.
The panel also held MSHA responsible for "disregarding the documented risk of methane outbursts at the mine, overlooking the deadly potential of a precarious ventilation system, neglecting to use its regulatory authority to force technological improvements, and allowing the U.S. mine safety system to atrophy."
They determined MSHA could have issued flagrant violation citations and had the authority to shut the mines down, but didn't. The report noted the cozy relations between mine owners, politicians, judges and regulators, specifically "the ease with which state mine officials move from employment with industry to government and back."
Despised union-busting CEO Don Blankenship, who was tried and convicted to one year in jail, insisted his mines were safe. He cited three Sentinels of Safety awards received from MSHA in 2009. These awards went to surface mining and coal processing plant operations.
The company consistently contested violations and attempted to control the state's political system in order to defeat oversight agencies. Blankenship even blamed MSHA for the explosion because the agency demanded changes in UBB's ventilation system.
A union safety committee could have shut down the mine before methane gas and coal dust combined to cause the explosion. If only there had been a union.