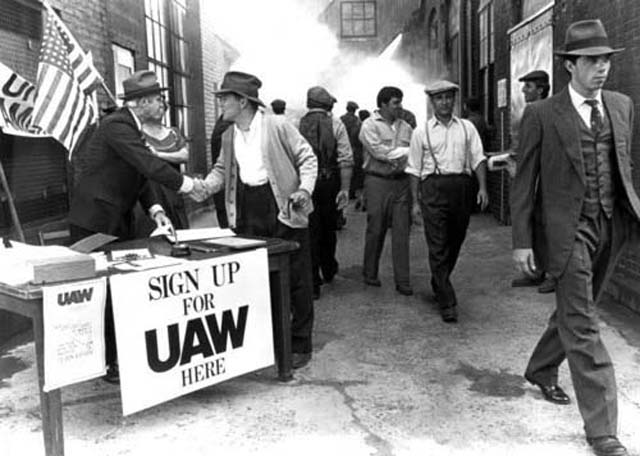 On this day in labor history, the year was 1937. 
That was the day over 1000 autoworkers at the Ford assembly plant in Kansas City, Missouri began their occupation. 
The sit-down was the first strike by the UAW against Ford. UAW president, Homer Martin vowed to organize the entire company. 
The strike had been called the previous evening, when workers learned 350 of their coworkers had been laid off at the end of the day shift. 
They demanded reinstatement, higher wages, better working conditions and recognition of the union. 
Workers spent a good part of the early morning hours welding the gates shut to the railroad yards and parking lots surrounding the plant. 
Then, they selected an 18-man committee to direct the strike. 
One leader, O.W. Penney stated: "… When the company forced the strike on us by unfairly laying off men because of union membership (some with 12 years on the job), everybody joined up with us. 
We signed 200 outside the plant and they're signing others inside." Penney added, "The pay here is not as good as at either Chevrolet or Chrysler plants… The boys there have better sanitary facilities and a cafeteria, while we have to eat our lunches sitting on the floor." 
Strikers lowered a banner from the top floor of the plant that read, "Lincoln Freed the Slaves. Ford Brought Them Back." 
Ford insisted he would never allow his plants to be organized.
But company representatives spent the weekend negotiating a settlement with the UAW to rescind the layoffs.
By Monday, April 5 workers were back on the line.
Strike authorizations would flare up just two weeks later when Penney and another UAW organizer were beaten at the hands of company thugs.